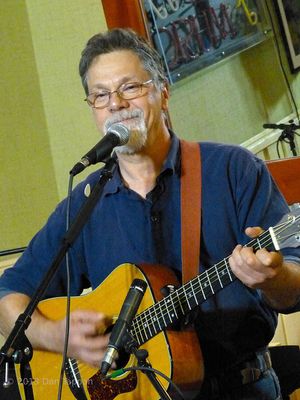 Join us for a very special guitar workshop on
Writing Memorable Songs
on Saturday, July 18th at noon.
What makes a song memorable?
Join PJ Rogue (Paul Rogoshewski), 45 year veteran songwriter and
finalist in the 2015 RISA performing songwriter competition
,  for a workshop on writing memorable songs.  
In this developing workshop series, we will explore
hooks, openings lines, writing from title, how to develop a rhyme scheme, prosody,
and
how words work together to form solid "gettable" lyrics.
This is a hands on workshop.
Bring your instruments, songs you are working on, and lyric sheets.
It's okay if you are just starting out or have been doing this for some time. There is always something to learn.
We will be using your songs or snippets to explore  the  above ideas so that you can improve on your craft.
.. and write more memorable songs.
In this first workshop of  the series, we will explore the practice of writing from title. 
Check out some of Paul's original songs at
PJ Rogue | Americana from Hudson, MA
You must RSVP for this workshop by Friday July 17th.

  You can RSVP by contacting us through our link here or call us at 978-237-5097.

Workshop is $35 for non-students
.  It is free for students of the Rob Compagna Guitar School.  Workshop will be held at the
Clover Farm General Store at 9 West Main St., Groton MA 01450
on
Saturday July 18th at noon.