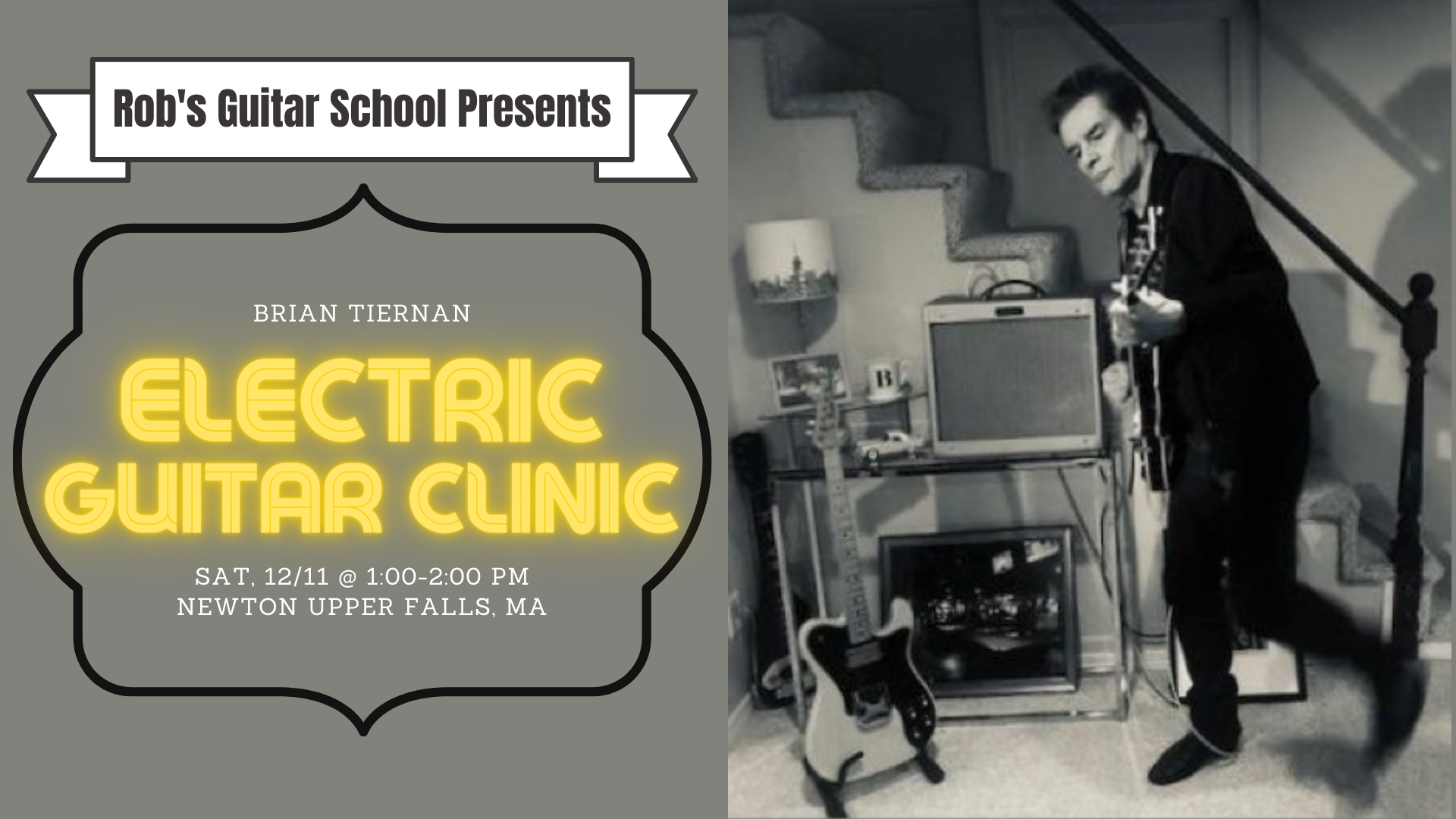 Love the guitar and want to learn more? Stuck in a rut with your guitar-playing and need a path to move forward? Just beginning to play and want to hear what is possible? 
Join Brian Tiernan on Saturday, 12/11 for an enlightening clinic. Brian will perform selections from his latest CD titled "Eclectic Electric" and discusses various techniques of guitar playing as applied to Jazz, Blues, Rockabilly, and Classical music including: 
· Chord melody - how to move from single note playing to constructing true 
chord/melody guitar solos 
· Fingerstyle technique - learning independent use of thumb and fingers 
· Flat pick vs. finger picking 
· Getting the most out of six strings 
· Choosing a guitar tone that suits the song 
· The use of guitar effects 
· Songwriting and arrangement 
· The music business 
· Dealing with performance anxiety 
· Mental and physical benefits of guitar study 
This clinic is intended for intermediate and advanced players, however beginners are absolutely welcome! Participants will have the opportunity to ask questions and discuss. 
REGISTRATION 
Go here to register and pay: https://withribbon.com/s/398254 
Admission is $20/person. Registration is open until Thur, 12/9 at 12:00pm. 
ABOUT BRIAN TIERNAN 
Brian has been a professional guitarist for over 40 years. He has played in the bands of blues greats Johnny Winter and Otis Rush. On the other end of the musical spectrum, Brian played guitar with Debby Boone (You Light Up My Life), Barry Williams (of The Brady Bunch), and the Lawrence Welk Orchestra. He was the guitarist in the orchestras for Man of La Mancha, Hair, and Legends in Concert. Additionally, Brian appeared as an actor and musician in the Broadway show "Buddy, The Buddy Holly Story". He has studied with guitar greats Les Paul, Bucky Pizzarelli (the Tonight Show with Johnny Carson), and Ted Dunbar (Dizzy Gillespie).