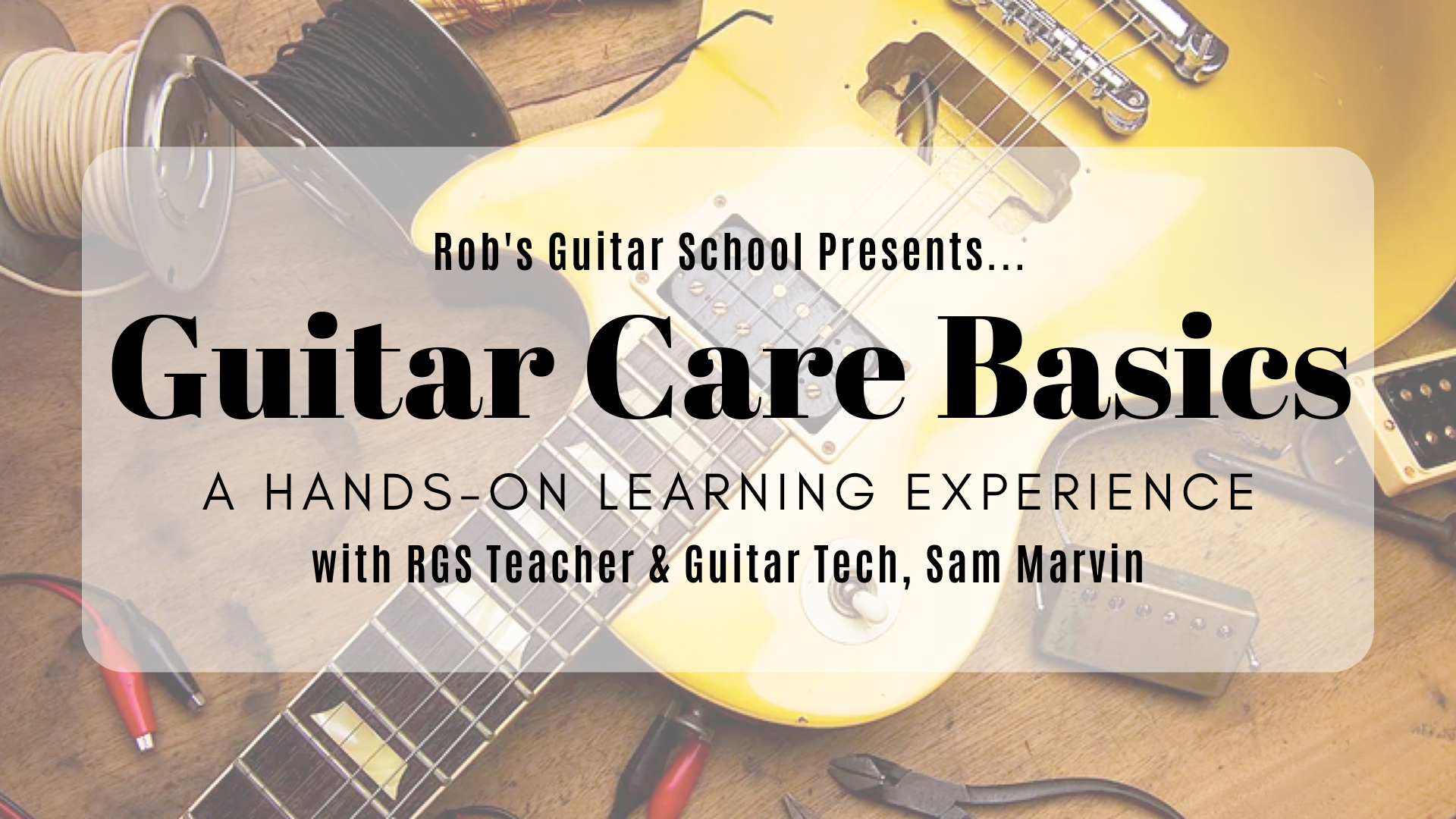 Guitar Care Basics is a workshop designed to give you the proper techniques for restringing your guitar, adjusting playability, and tips and tricks for better overall guitar performance. 
Topics covered include restringing techniques, truss rod adjustment, intonation adjustment, tremolo adjustment, troubleshooting common problems, pick-up theory, and switching string gauge. We will also discuss the best way to keep your guitar in playing shape through the transitional seasons of year, as well as the main differences between caring for acoustics and electrics. 
The workshop centers on a hand's-on, live demonstration of the above mentioned topics on a Mini-Squire Stratocaster. It is in average playing condition as is, but will transform to something worth learning on by the end of our time together. 
If you have ever been dissatisfied with the performance of your guitar, whether it is brand new out-of-the-box, an old battleaxe, or a great used find, this is the workshop for you! Students are encouraged to bring any guitar that they think could play better for discussion purposes, and to come with questions. 
This workshop is recommended for anyone that is curious about how to better care for their instrument, from young beginners to old pros. Students under 10 years of age should have a parent present. 
REGISTER & PAY HERE: https://forms.gle/JANhebnDRcNuchkA7 
Workshop Details: 
When: Sat, 8/17, 1:30-3:00pm 
Who: All ages and skill levels 
Where: RGS Newton (48 Chandler Pl, Newton Upper Falls) 
Max: 8 people 
Taught by: Sam Marvin, RGS teacher and guitar technician 
REGULAR ADMISSION: $40 
EARLY BIRD: $30 when you register before 5pm on 8/10 
STUDENTS: $20 when you register before 5pm on 8/16 
Registration: 
Registration will be open until 5pm on Friday, 8/16/19. Please be sure to register and pay in advance in order to secure your spot. If you do not register in advance and show up day-of we cannot guarantee there will be room. Day-of admission is $40. 
To apply the early bird or student discount: simply put in the corresponding amount when you navigate to the payment link at the end of the registration form. 
REGISTER & PAY HERE: https://forms.gle/JANhebnDRcNuchkA7 
About Sam Marvin: 
An active musician for the past 17 years, Sam has been teaching Guitar and Music Theory privately for the past 6 years. After earning a Masters Degree in Ethnomusicology from the University of Chicago, Sam moved to Colorado to teach and manage a small music shop, Jensen Guitar Company. Over those 5 years in Colorado, Sam honed his craft and further cultivated his passion for teaching and learning. Sam has performed for many years as a solo guitarist (acoustic and electric) in all styles, as well as a lead guitarist for a variety of bands in different styles from Jam to Jazz to Indie and more. Sam has an in-depth knowledge of Music Theory and Improvisation (The focuses of his BA in Music from Boston College, along with Composition) as they relate to guitar and harmonic analysis. We are privileged to have Sam at our school as a teacher as well as our in-house guitar tech!