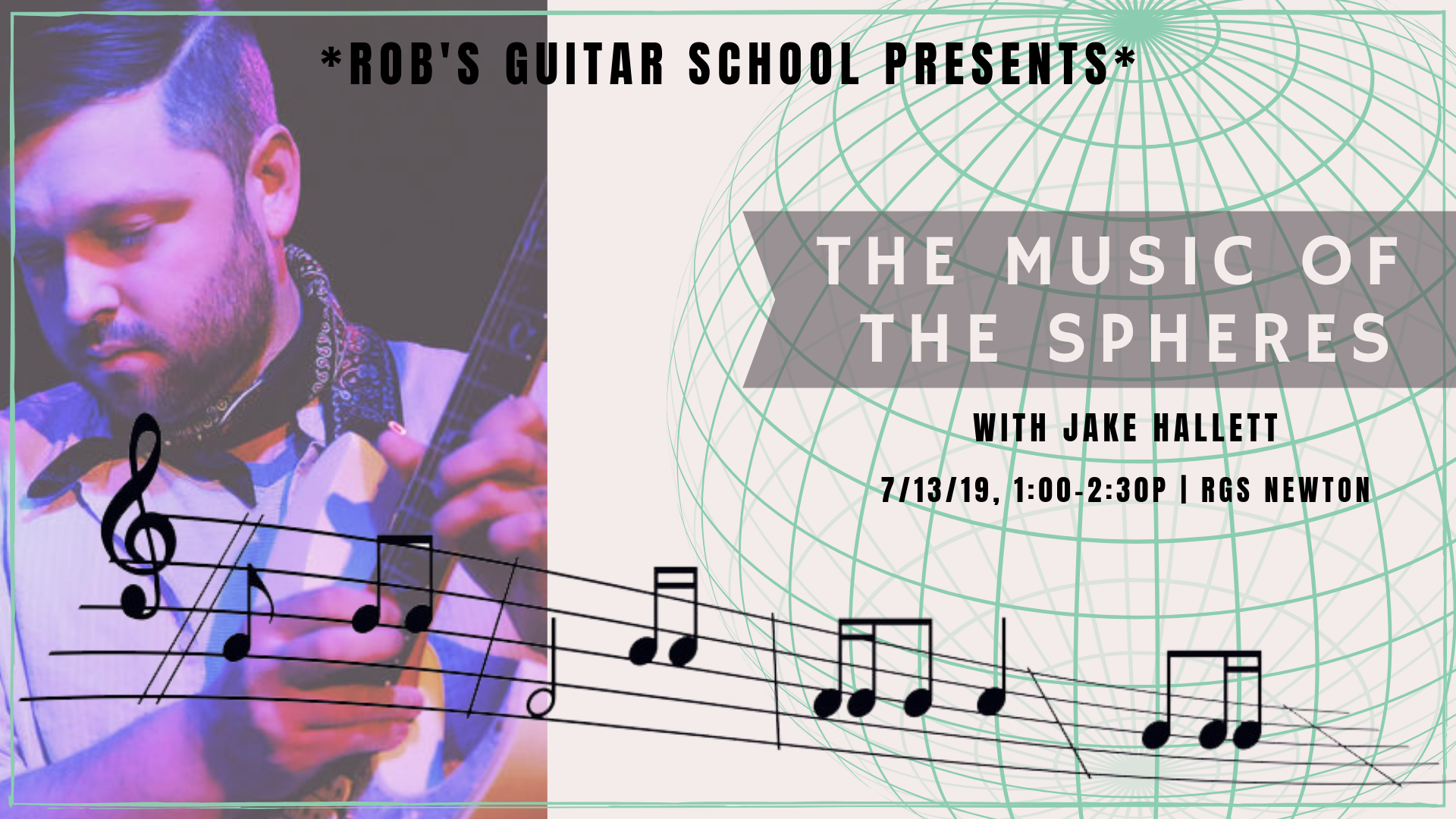 Jake is bringing this intriguing workshop from Groton to Newton! In this month's "Music of the Spheres" workshop, Jake intends to enchant your mind with the simple yet complex similarities between geometry and music. The Universe speaks one language, and that is mathematics. What better way to enjoy the rules of mathematics than the real time experience of music? 
Jake has searched high and low for every piece of information he can find from ancient and contemporary sources. This includes the fairly recent illumination of facts from Masonic, Hermetic, Qabbalistic, and Rosicrucian philosophy. The results of his research have filled his thoughts with incredible veneration for the harmony in our Universe (One-Verse). 
Jake's hope is to assist you in seeing the correlation between sound, color, mathematics, the human body, and the stars. Come join him as we discuss and discover these beautiful rules on our guitars! 
In this discussion-style workshop, we will: 
-- Learn the origin of notes, cords and scales 
-- Discuss 440hz vs 432hz tuning and dispel some common misconceptions 
-- Learn how to hear pitch colours 
-- And more! 
Workshop Details: 
When: Sat, 7/13, 1:00-2:30pm 
Who: Teens & Adults (Ages 13+) 
Where: RGS Newton (48 Chandler Pl, Newton Upper Falls) 
Max: 8 people 
Taught by: Jake Hallett of Rob's Guitar School 
Please bring your guitar 
REGULAR ADMISSION: $40 
EARLY BIRD: $30 when you register before 5pm on 7/6 
STUDENTS: $20 when you register before 5pm on 7/12 
Registration: 
Registration will be open until 5pm on Friday, 7/12/19. Please be sure to register and pay in advance in order to secure your spot. If you do not register in advance and show up day-of we cannot guarantee there will be room. Day-of admission is $40. 
To apply the early bird or student discount: simply put in the corresponding amount when you navigate to the payment link at the end of the registration form. 
About Instructor Jake Hallett: 
Jake Hallett is an instructor at our Rob's Guitar School location in Groton. Jake has a Master Certificate from Berklee College of Music in Guitar and Songwriting. He has been playing guitar for over 15 years and has been teaching since 2010. Aside from teaching, Jake is also an accomplished studio musician. He has done TV spots for Hammerhead Guitar Picks on VH1, and composition for multiple indie video games by Smashplug Games.