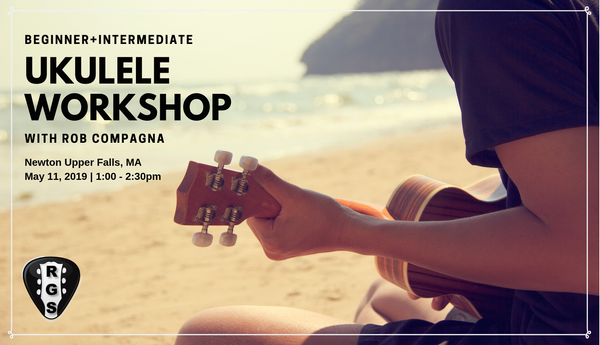 What: Ukulele Workshop 
Level: Beginner + Intermediate 
When: Sat, 5/11, 1:00-2:30pm 
Who: Teens & adults ages 13+ 
Where: RGS Newton (48 Chandler Pl, Newton Upper Falls) 
Max 8 people 
Taught by: Rob Compagna, of Rob's Guitar School - Newton 
REGISTER & PAY HERE: https://forms.gle/YKnEpQ5zDL3sPhhW7 
DETAILS 
This workshop is a great jumping off point for those who are new to the ukulele or are at beginner or intermediate levels. Don't have a ukulele? No problem! We've got extras. Let us know in advance if you need one. 
Have a blast learning to play songs such as: Don't Worry Be Happy by Bobby McFerrin, This Land is Your Land by Woody Guthrie and more! You will also receive a workbook detailing basic ukulele chords and songs covered in the workshop so you can go home and keep having fun with it! 
TICKETS 
Regular: $10 (sign up by Thursday, 5/9, at midnight) 
5/10 and day-of/at the door (if room): $20 
Registration will close at 5:00pm on Friday May 10th. Register today! 
REGISTER & PAY HERE: https://forms.gle/YKnEpQ5zDL3sPhhW7 
About Rob: 
Rob has been playing guitar for 35 years and teaching for 30 years and has played in New York City, Los Angeles, Boston, Texas and throughout New England, in bands such as G3 New England, Intercept, Slight Return, C-4 and the Summertime Jazz Band. He has taught hundreds of guitar students in his lifetime.