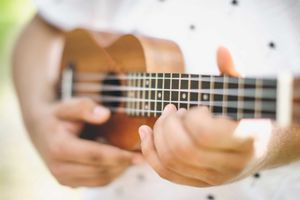 Come learn the fundamentals of the ukulele at our Newton location! All ages, beginner and intermediate levels welcome. In a matter of minutes you'll be playing simple chords and easy songs. This workshop will be taught by one of our instructors, Cole Bigonet. Scroll down for his bio! 
Event Info:
48 Chandler Place, Newton Upper Falls, MA
Saturday, 10/13/18, 1:00-2:30pm
Tickets: 
Regular registration: $10/person 
Day-of registration: $15/person 
Don't have a ukulele? Don't worry! Extra ukuleles available (reserve in advance). Sign-up & workshop fee paid in advance required. Go here to register.
About the instructor: 
Cole Bigonet has been playing ukulele for close to five years. He attended Bennington College where he primarily studied music. He now lives in Newton where he grew up attending many creative programs in music and the visual arts. He loves to compose his own pieces on the ukulele and he also loves playing pieces that he's learned. He also loves sharing what he's learned with those who care enough to ask. As Jake shimabukuro says "if everyone played the ukulele the world would be a better place." He looks forward to sharing the joys of ukulele with you. It's easy and fun and you'll pick it up in no time!