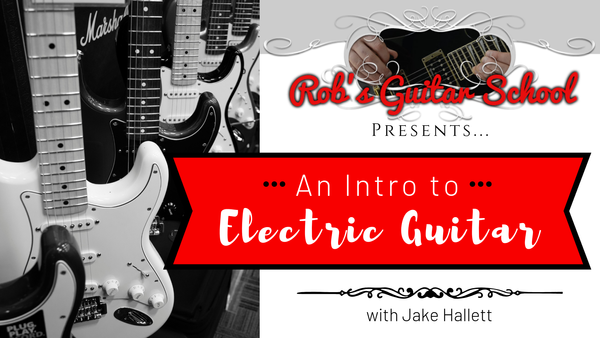 Workshop Overview: 
When: Sat, 4/27, 11:00am-12:30pm 
Who: Teens & Adults (Ages 13+) 
Where: Groton Grange, 80 Champney St in Groton 
Max: 8 people 
Taught by: Jake Hallett of Rob's Guitar School 
REGULAR ADMISSION: $40 
EARLY BIRD: $30 when you register before 5pm on 4/19! 
STUDENTS: $20 when you register before 5pm on 4/26 
About this Workshop: 
Are you completely new to guitar and interested in electric? Are you an electric-curious acoustic player? Wherever you are in your guitar journey, this workshop will leave you with a great wealth of knowledge and understanding on the basic nuts and bolts of electric guitar. This workshop will provide an excellent comprehensive into to electric guitars and all of the equipment. 
There will be some opportunity to try out the equipment, however the format of this workshop is mainly informational. 
Come to this essential workshop and learn about: 
- Parts of the electric guitar and how it works, including body types and neck types 
- How amplifiers work, including EQ and pre-amplification 
- Different amp types, like tube, solid state and modeling 
- Different effects petals, such as overdrive, modulation and compression 
- And more! 
Registration: 
Registration will be open until 5pm on Friday, 4/26/19. Please be sure to register and pay in advance in order to secure your spot. If you do not register in advance and show up day-of we cannot guarantee there will be room. Day-of admission is $40. 
To apply the early bird or student discount: simply put in the corresponding amount when you navigate to the payment link at the end of the registration form. 
About Instructor Jake Hallett: 
Jake Hallett is an instructor at our Rob's Guitar School location in Groton. Jake has a Master Certificate from Berklee College of Music in Guitar and Songwriting. He has been playing guitar for over 15 years and has been teaching since 2010. Aside from teaching, Jake is also an accomplished studio musician. He has done TV spots for Hammerhead Guitar Picks on VH1, and composition for multiple indie video games by Smashplug Games. Check out his website jakehallettmusic.com to learn more about Jake.