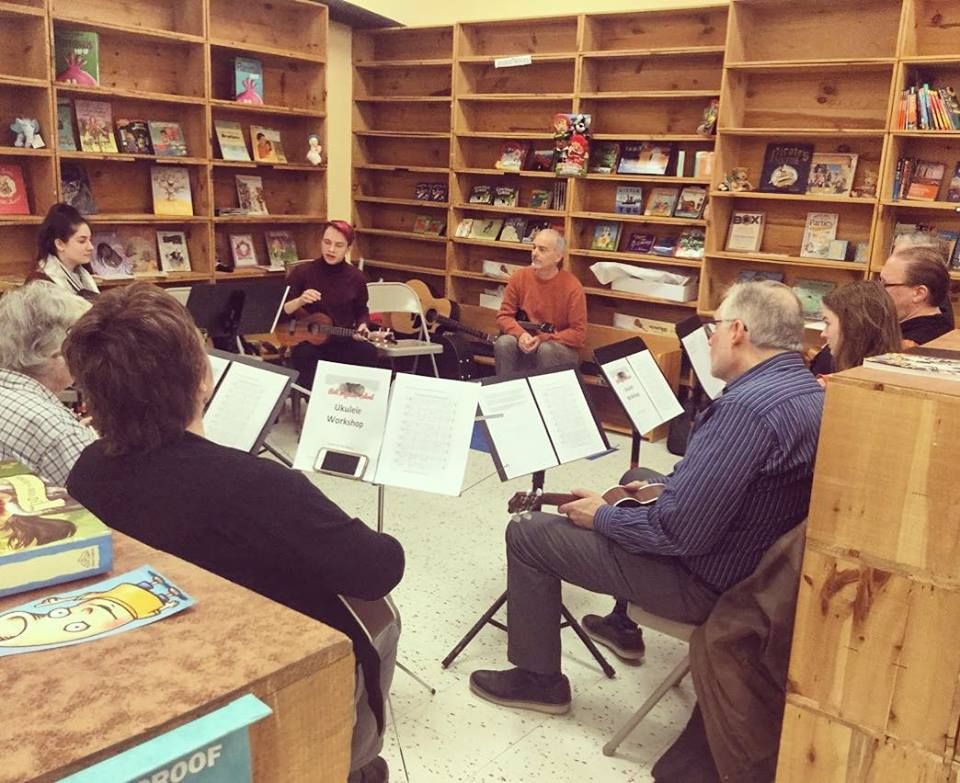 Beginner/Intermediate Ukulele Workshop 
Taught by lead ukulele instructor, Cole Bigonet and Rob Compagna, from Rob's Guitar School - Newton 
When: Sat, 2/9, 2:00-3:30pm 
Who: Ages 13+ 
Where: New England Mobile Book Fair, Newton 
$10 in advance | $20 at the door 
Max 8 people 
Register here: https://goo.gl/forms/ge4IthXPMZCM13MQ2
We're excited to be back! Learn some easy chords and play some equally easy songs! Work on strumming patterns and technique. 
Details: 
Open to ukulele players of all levels and particularly good for people who have never played. Don't have a ukulele? Let us know in advance if you need one. 
Learn to play songs such as: Yellow Submarine, Something, and Help! by The Beatles, This Land is Your Land by Woody Guthrie, Three Little Birds by Bob Marley and more. 
Attendees will receive a workbook detailing basic ukulele chords and songs covered in workshop. 
Registration will be open until 7pm on Friday, 2/8. Register here: https://goo.gl/forms/ge4IthXPMZCM13MQ2
About Cole: 
Cole Bigonet has been playing ukulele for six years. Attended Bennington College for music and art. Cole was recently a featured performer at the Mystic Chorale concert in Boston. 
About Rob: 
Rob has been playing guitar for 35 years and teaching for 30 years and has played in New York City, Los Angeles, Boston, Texas and throughout New England, in bands such as G3 New England, Intercept, Slight Return, C-4 and the Summertime Jazz Band. He has taught hundreds of guitar students in his lifetime.
Register here: https://goo.gl/forms/ge4IthXPMZCM13MQ2