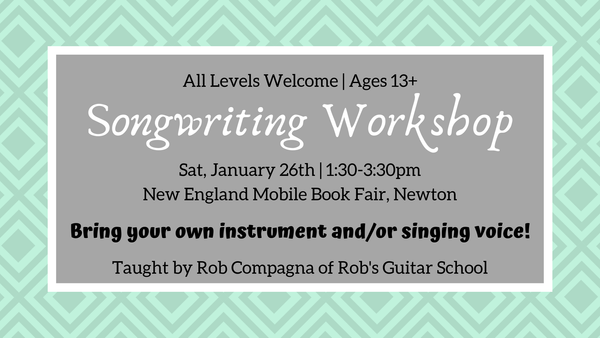 Taught by Owner and Chief Instructor at Rob's Guitar School, Rob Compagna 
When: Sat, 1/26 @ 1:30-3:30pm 
Who: Ages 13+ 
Where: New England Mobile Book Fair, Newton 
$30 in advance | $40 at the door 
Min 3 people | Max 8 people 
  
Learn how to write your own songs. Topics covered are song structure, basic music theory, writing musical riffs and hooks, writing lyrics and singing. Students will leave the workshop with having written their own song!  Songwriting workbook included in the workshop. 
Bring your own instrument and/or singing voice. All styles welcome except classical and opera. 
Register and pay here in advance to claim your spot!
Registration will close at noon on 1/25.
About instructor Rob Compagna: Rob has been playing guitar for 35 years and teaching for 30 years and has played in New York City, Los Angeles, Boston, Texas and throughout New England, in bands such as G3 New England, Intercept, Slight Return, C-4 and the Summertime Jazz Band. He has taught hundreds of guitar students in his lifetime.